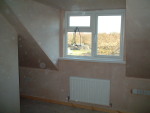 Your loft is usually the single largest area of space in your home. If it's just being used to store junk, why not reclaim the space with one of our loft conversions. We can help you to convert your attic into a new room, such as a study, playroom or library.
Our specialists can help you to plan and design your loft conversion and carry out all the work including window-fitting, installation of furnishings, flooring, painting, decorating etc.
All work is carried out to the highest possible standards and with minimal disruption.
Contact us now for a free quote >>